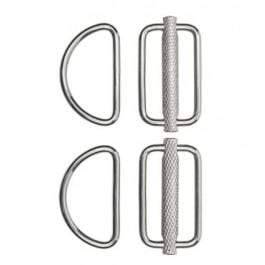 XDEEP Stealth Slideable D-Ring Kit
SKU: XD-HA-033-0
---
XDEEP Stealth Slideable D-Ring Kit
The XDEEP Stealth Slideable D-Ring Kit Has been designed to function in addition to the primary d-rings on your harness. The primary benefit of the sliding d-ring is that it can be pushed forwards and backwards along the waist strap to ideal location on the fly while sidemount diving. This allows the cylinder clip off point to move during the dive to compensate for the buoyancy change that occurs while breathing from aluminium cylinders.
This is a simple and robust part that will let you, the sidemount diver, easily adjust the cylinders position throughout the dive to allow for optimum trim and ensuring the most streamline profile underwater.
The XDEEP Stealth Slideable D-Ring Kit will work with any 2" wide harness webbing. This kit comes with two Slideable d-rings.