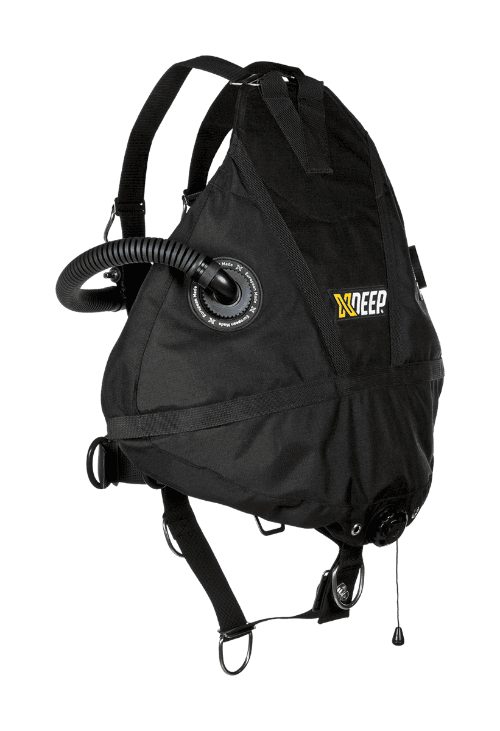 XDEEP Stealth 2.0 TEC
SKU: XD-SM-S2T-S3
---
XDEEP Stealth 2.0 TEC
Multi tank technical diving has a new champio
The XDEEP Stealth 2.0 TEC has arrived! Technical sidemount diving has no doubt experienced an explosion of popularity in recent years. Technical divers look to go deeper for longer, and to be able to efficiently and safely carry multiple cylinders. Sidemount offers many open water advantages. Building on XDEEP's expertise and experience from the STEALTH 2.0 classic, the XDEEP Stealth 2.0 TEC is the perfect solution for technical sidemount diving.
The Sidemount Revolution
The birth of the STEALTH 2.0 classic began a revolution in sidemount diving, which continues to this day. Three years after the classic, XDEEP decided to make the world's best sidemount system even better!
As a base, they used the outstanding STEALTH 2.0 harness and weight management system. The idea behind that was so that all STEALTH components could be seamlessly compatible. STEALTH 2.0 is after all a tried and tested technology and an advanced design. They kept the perfect streamlining and balance as per the classic, but in a wing that offered additional lift to cope with the demands of deep, multi-cylinder technical dives.
Dive Deeper, Dive Longer, Dive Safer
The XDEEP Stealth 2.0 TEC was designed to excel in deep decompression diving and in extended cave penetrations. Furthermore, the 19kg of lift in the wing can easily support the multiple cylinders that advanced diving requires. Increasing the STEALTH 2.0 buoyancy meant ensuring that the movement and position of the gas could be properly managed. As such, the XDEEP Stealth 2.0 TEC does this brilliantly. It keeps you stable, balanced and in trim, whatever the level of inflation.
More lift, more streamlined
Increasing the lift of the BCD whilst maintaining and even improving the streamlining required a complete rethink on wing design. New solutions offered a spectacular result. Multi cylinders are now easily supported, even if they are large volume heavy steels or cave filled. At the same time, the XDEEP Stealth 2.0 TEC is incredibly slender, even when fully inflated.
Manage your buoyancy whilst staying in trim
Many sidemount BCD's place the dump valve on one side or the other. Releasing gas from these systems requires a roll onto your side. This may be ok in a 2 cylinder configuration. However, when carrying multiple cylinders, changes of trim and balance require considerable effort that really should not be needed. By placing the dump valve in the centre of the STEALTH 2.0 TEC wing, you can release excess gas with either hand, and stay in perfect trim while you do so.
Choose the ideal feed for your Inflator
Depending on how you like to configure your sidemounts, low-pressure inflation feeds usually run off the left and right main cylinders, one to the wing and one to the drysuit. You can choose which side you prefer the wing feed to come from, based on whether you might ever hand off a cylinder, whether you feed from a stage cylinder or dedicated suit inflate cylinder, or simply because you prefer using your left or right hand for buoyancy control.
Protection where it's needed
If you are going to catch any part of the system in a narrow wreck passage or cave restriction, it will probably be the upper part of your back first. XDEEP have thought ahead and reinforced the upper part of the BCD, improving the fit to your back and eliminating snagging hazards. Safe, functional and secure.
XDEEP Stealth 2.0 Harness
The STEALTH 2.0 harness was a ground-breaking approach that revolutionised sidemount harnesses. At the core of the STEALTH 2.0 system, it provides technical divers with a foundation of comfort and safety unparalleled anywhere else in the dive industry. The TEC wing is fixed to the harness for added security during the deep part of the dive and on your decompression stops. The STEALTH 2.0 features harness webbing of differing thickness and stiffness for comfort, but also for enhanced performance. Security and adjustability is designed into the harness to enhance the diving experience. D rings on the waist strap can be moved to allow for changes in tank buoyancy and control of cylinder position, even if carrying buoyant high helium mixes. Often copied, the STEALTH 2.0 harness is unequalled.
No restriction of movement
The position of our axis of rotation and our centre of gravity control our balance and trim in the water. XDEEP have set the STEALTH 2.0 junctions (nodes) for the shoulder and waist straps on anatomical landmarks. This means that regardless of your position in the water, the harness will stay exactly as you set it up. The central weight pocket can move relative to the lower node for maximum comfort and zero resistance. When turning the body, there is no movement of the shoulder straps. Nothing to get in the way of complete freedom of movement.
Rapid harness configuration
Unlike single piece harnesses the STEALTH 2.0 has an independent adjustment of the shoulder and waist straps. Changing the shoulder strap length does not change the waist D ring positions. The crotch strap is an independent adjustment. It is fast and simple to obtain the perfect fit and configuration for multi-cylinder diving. Technical instructors value every minute in the water. therefore, rather than spending up to half a day adjusting a single piece harness, you can be diving much much faster.
Technically advanced webbing
Three different webbing technologies in the STEALTH 2.0 harness meet the functional challenges of deep technical diving. On the waist, there is a stiff and rigid webbing that ensures the D rings for clipping off your cylinders stay exactly where you want them. Shoulder straps mould to your body by using softer material and give great fit and ease of movement. The crotch strap is super soft but supportive without leading to wear on your drysuit. Materials technology applied with innovation.
The worlds' best weight management system
Attach your weights exactly where you want them. Achieving perfect balance and trim, even with 5 or 6 cylinders, is simple, whether you need one 1kg or over 20kg. Designed to keep weights secure and immovable whilst remaining easy to use and flexible, the STEALTH 2.0 weight management system is truly world-class.
Take the weight you want
Technical diving is equipment-focussed and requires multiple backups. Add in multiple gas blends in a variety of cylinders, throw in a drysuit with thick thermals and proper weighting is vital. Most other sidemount systems, even those who have copied our designs, struggle to manage to accommodate sufficient weight, especially in the right places. Limits on where you can place weight will lead to compromises in balance and trim. The STEALTH 2.0 easily deals with the ideal placement of weight from a 1kg block to over 20kg without fuss. Whatever your dive, you can relax and know your system is able to cope beautifully.
Balanced to achieve easy trim
The XDEEP weight management system allows you to place the weight in an ideal position relative to your centre of gravity. The central weight pocket is simple to move within a considerable range. Just as if you were moving a V or tail weight on a twinset, you can apply the same principle for optimum position and thereby perfect balance.
Secure and smart weight pocket closures
Unintentionally losing weight and being unable to hold decompression stops can lead to serious injury or worse. In technical diving, the consequences of losing weights far outweigh the potential need to drop them. The STEALTH 2.0 weight pocket design cleverly prevents any accidental losses. Side fastening bands are reinforced by the main band. This will prevent the undesired opening of the pocket and accidental release of the weights. Resistant to contact with the roof of a wreck or cave and easy to visually inspect for integrity pre-dive or during a descent check. Making adjustments, moving weights and securing the straps can be done quickly, even underwater.
The World's Most Versatile Sidemount System
The STEALTH 2.0 TEC Setup will perform perfectly on a deep trimix dive or on a long multi-stage overhead penetration dive. It will even cope brilliantly with a single-cylinder dive for fun on a colourful reef. If you add in the versatility that the Classic and REC wings provide, you have an almost infinite number of options configurable to the dive you want to do that day.
Set up to suit you in just a couple of minutes
The three-wing systems for the Stealth 2.0 Classic, TEC and REC are designed, manufactured and tested specifically for their intended purpose. The ability to use any of the three wings with the STEALTH 2.0 harness and weight management system, making any set-up changes in only a few minutes is not only unique, but inspired.