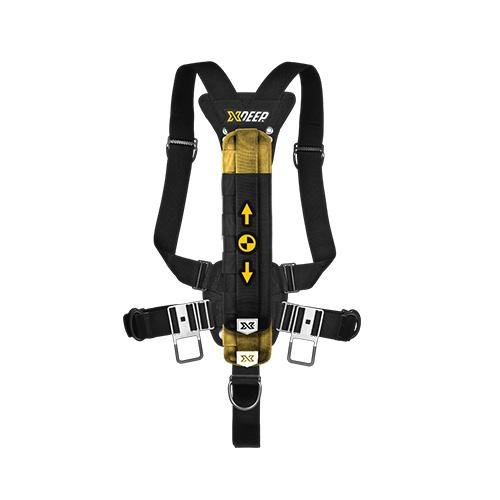 XDEEP Stealth 2.0 Harness
SKU: XD-HS-006-1
---
XDEEP Stealth 2.0 Harness
The expression thinking outside the box is often overused. However, that's exactly what XDEEP had to do to revolutionise the sidemount system harness with the XDEEP STEALTH 2.0 Harness. Analysing the many systems already on the market was a start. They soon realised the need for something new and groundbreaking. Something that would perform brilliantly in the Yucutan Caves as well as open water.
The XDEEP STEALTH 2.0 Harness includes some revolutionary features. Using harness webbing of differing thickness and stiffness meant a better more comfortable fit. Building true anatomical structures into the harness enhanced the diving experience. Movable D rings on the waist strap to allow for changes in tank buoyancy. The STEALTH 2.0 Harness was the first to allow control of tank position. It has been imitated ever since
The flexibility designed into the STEALTH 2.0 weight system ensures you control weight placement relative to your centre of gravity. The central weight pocket has a considerable range of movement. Therefore, you can position it ideally for balance. The same principle that is used in twinset diving when moving a V weight into the optimum position.
If you are looking for an exploration, cave sidemount system, then the XDEEP Stealth 2.0 Classic Sidemount is for you. However, if you are looking for a more designed for open water sidemount, check out these other Sidemount Systems. If you are not sure that this is what you are after, check out the rest of the XDEEP range.