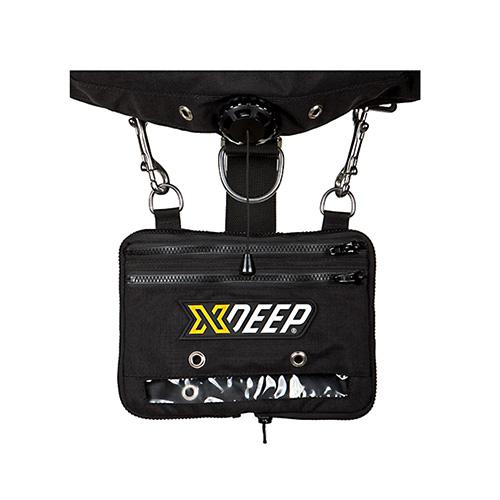 XDEEP Expandable Cargo Pouch
SKU: XD-HA-022-1
---
XDEEP Expandable Cargo Pouch
The XDEEP Expandable Cargo Pouch is a larger pocket for all your equipment needed during a dive.
The pouch is a heavy duty diving pouch, ideal for sidemount and all forms of technical diving. This pouch is expandable to a larger size than the Standard Cargo Pouch. Therefore, larger items like spare masks can be taken with you. When you only need smaller items, you can simply close the outer zip for a compact, low profile pouch.
The XDEEP Expandable Cargo Pouch has two attachment points. This means that it can be easily attached to the gear you are using, whether that is a BCD, harness, buttplate or sidemount harness. It can also be unclipped just as easily from the lower or rear connection point, and re-clipped onto a shoulder D-ring in order to find or replace an item.
Large section
This section can hold a lot of different accessories, such as a spare mask, slates, wet notes, spool, torch or similar. It has two D-rings inside so that you can secure items to prevent them from falling out. It also has a clear window to the front, so that you can easily see if a torch has been accidentally turned on, as well as two drain holes.
Small section
This section is at the front of the XDEEP Expandable Cargo Pouch and is ideal for smaller items and accessories. It has one D-ring inside to secure items if necessary, and 2 drain holes.
Simply Sidemount offer a full range of XDEEP products. A brand which is renowned for high-quality material and construction that never fails to deliver.