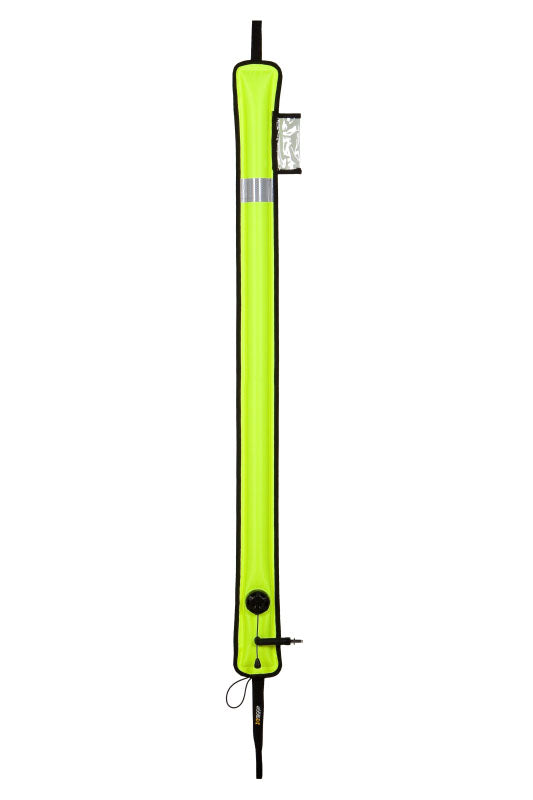 XDEEP Closed DSMB narrow, Bright Yellow, 140cm
SKU: XD-SB-066-0
---
XDEEP Closed DSMB narrow, Bright Yellow, 140cm
The XDEEP Closed dSMB is a long delayed Surface Marker Buoy packed full of features. Bright red, with SOLAS tape and a message pouch at the top means that you'll be seen in the water, and at 1.4m long, you'll stand out even in high waves. Closed Cell design means that any air that you put in the SMB will stay in the SMB until you empty it on the surface. Inflate the SMB with the LPI connector at the bottom either orally or with a LP inflator hose from your BCD or Drysuit.
As the gas expands as the SMB ascends the over pressure relief valve allows that expanding gas to escape so that it doesn't damage the SMB but it keeps the SMB fully inflated and rigid.
At the top the dSMB has an attachment loop to clip the buoy to something or something to the buoy. A clear message pouch so that you can write a message underwater on a notebook page, roll it up and send the message to the surface for support to read. SOLAS reflective tape helps you be seen in low light conditions.
The bottom has an over-pressure valve and inflator nozzle so you can inflate and deflate the dSMB. The very bottom has a large webbing loop to attach a line and a bungee loop to tie the dSMB into a tight roll when you're not using it.
Features:
140cm
Closed Cell
SOLAS Tape
Message Pouch
LP / Oral Inflation
Over-Pressure Valve